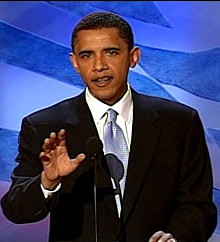 Future Illinois senate Obama representing at the Democratic Convention :)

With the Democratic Convention this past week, it was hard to miss Obama's legendary keynote speech that seemed to ignite a flame throughout the nation. If you didn't see it on tv, you undoubtedly heard about it on the news or around the water cooler at work. Hailing from humble beginnings, with mixed parents, and representing Chicago, you know I have to show him love. Not only did I vote for this man in the Illinois Primaries a few months back, I absolutely adore him. I know deep in my heart there are great things in store for this man so look out world!!!

COOL POLITICAL SITES OF INTEREST...check them out!!

League of Pissed Off Voters

The Young Voter Alliance

Fuck the Vote : Because Liberals are Hotter via Girls are Weird

HIP HOP CONVENTION 2004 Hip Hop turns political

Last but not least...Register to vote peeps!!

Peace & love.